By
Adam Kramer
Sep. 01, 2011
After a gut-punching offseason, week one is upon us. To celebrate such a joyous occasion there's a good chance many of you are going to embrace this long weekend of live pigskin over a cocktail or two, or three, or four, or…
While many of you will take your talents to the tailgate scene, others (raises hand) will bring the tailgate to their favorite sofa. To aid those of you that will be looking for some active participation during week one's Thursday to Monday marathon session, we've got  the perfect indoor tailgating companion. A viewing guide if you will, to give you some active participation options if it's so desired.
Behold… Your 2011 Opening Weekend Drinking Game
Take One Drink each time the words "Expansion" or "Sanctions" are mentioned. I'm sorry. #Hammered
Take One Drink for all touchdowns. It's the first week, it's a celebration. If you have a wager on these games and the opposing team scores, double that drink intake and please don't smash your TV or laptop. It's a loooooong season…
Take One Drink when the mascot is shown. If this mascot happens to be a live animal, up that drink intake to five. If this mascot happens to be getting arrested like the Cincinnati Bearcat of 2010, go ahead and polish off the fridge of freezer.
Take One Drink for all footage of fans tailgating outside the stadium. Up close grill require double. Shots of shirtless d-bag trying to get themselves on screen require triple-sips and a few minutes of belittlement.
Take One Drink for all cheerleader shots. Sure, why not.
Take One Drink each time Craig James is shown on television. By rule, you're not actually allowed to enjoy this particular drink. In fact, this is the WORST kind of drink which goes well with groans, sighs and the occasional #firecraigjames.
Take Three Drinks if a coach has a tantrum that is caught on camera. Red faces equipped with an over-the-top scowl certainly apply. If a coach throws his headset, double the drinks. Out of respect for Bo Pelini's face magic, you might as well take three early on and store them for the first drive.
Take Three Drinks for all strip sacks. If the player who caused such havoc recovers the football, finish your drink. This trifecta of defensive excellence needs to be celebrated accordingly.
Take Three Drinks every time "Legends" or "Leaders" is mentioned on the broadcast. If you're a Big Ten fan, these drinks should be accompanied with either tears or an impressive string of curses.
Take Three Drinks for all references to Texas A&M. Keep in mind that these three drinks pale in comparison to the drinking Dan Beebe will likely be doing.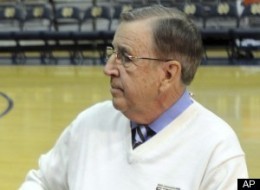 Take Three Drinks when a bubble screen is thrown. Just because Jon Gruden hates college football's most exciting lateral pass, that doesn't mean it shouldn't be embraced with a hefty chug.
Take Five Drinks for all gambling innuendo mentioned on air. We know many of you immediately will turn your mind to our good friend Brent Musburger who isn't afraid to bring point spreads, overs, unders and outstanding awkwardness to the booth. But it's not just him. Okay, it's basically just him. DRINK.
Take Five Drinks if a draw play is called on 3rd and long. In the unique instance where this ground and pound submission picks up the 1st down, make it an even ten and take back all those awful things you said about the play call before the running back got the 1st.
Take Five Drinks if your team o' choice fails on a 4th down conversion or misses a field goal. If your kicker misses an extra point (which includes blocks), finish your drink and talk about what a great kicker YOU could've been.
Take Ten Drinks for every Arm Punt that is thrown. For those unfamiliar with the term, head over to YouTube and type in "Jacory Harris" and you should be well equipped to participate.
Take Ten Drinks for all Longhorn Network commercials. If these commercials include our friend Matthew Mcconaughey, double it and then recite your favorite Dazed and Confused line.
Finish Your Drink if a Fat Guy, aka offensive or defensive lineman, scores a touchdown. Then high-five everyone in the room and talk about it for the next hour or so because Fat Guy Touchdowns are that incredible.
Finish Your Drink if and when a touchdown is called back for excessive celebration. This awful rule will come in play, and you know it's just a matter of time. When it finally does happen, we should all embrace just how awful it is by sharing a community chug through our Televisions.
And if college football drinking games aren't your fancy, then enjoying a cold one for 30 over a long weekend while watching the return of the best game on the planet isn't a bad idea. Yea, that'll work just fine.
Suggestions, as always, are certainly welcome.
Cheers.