By
Adam Kramer
Jan. 09, 2012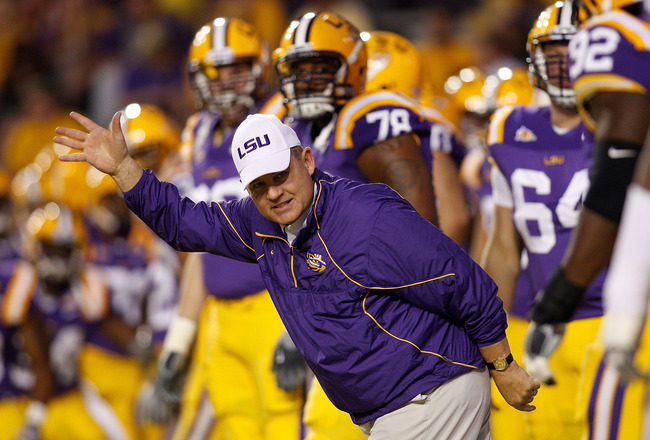 College football's final game is here, and we're celebrating the closing act by enjoying the game with Internet friends. And beer, lots and lots of beer.
This marks the third drinking game that we'll have done this bowl season, and we only wish that there were more games to drink to. An NFL Combine drinking game will happen, (SPOILER ALERT), but tonight is all about the game we love.
It's been one hell of a year, and regardless of whether you wanted to see a rematch or not, think LSU should be crowned champion without having to play this game or have assorted BLAH BLAH BLAH BLAH opinions, we can all come together one last time before September and just enjoy it. And beer, lots and lots of beer.
And away we go…
Drink One when Nelly is on your screen. This is your standard operating procedure and we're not giving up just yet. In February, you'll crave for more Nelly into videos, regardless of how you feel right now.
Drink One for every punt. Your Twitter feed is actively searching for wonderful "DERP DERP PUNT" jokes at this moment, and drinking can be your own personal championship game filter.
Drink One when the "SEC's dominance" comes up on the broadcast. It'll help ease the pain, Big East fans. [puts arm around shoulder]
Drink One if Alabama misses a field goal. Make it five if it hits off the upright, and finish the fridge if Nick Saban goes incognito to become the team's kicker at halftime.
Drink One when Brent Musburger references the point spread or adds in some personal "rooting interest" at any point during the game. You'll know early on which side Brent is on, and him sweating his over/under bet in the second half will make for wonderful television.
Drink One for every wonderful Les Miles Clap. No description needed.
Drink One when Tim Tebow is mentioned. This has absolutely nothing to do with the game, but this rule alone might get you drunk.
Drink One every time Brag Wing is mentioned. If his Aussie roots are mentioned, drink another. If he scores a touchdown, finish your drink. If he gets another celebration penalty, finish your drink's drink.
Drink One if "rematch" or "Game of the Century" is referenced. Highlights from the previous game require a drink as well, and an on-air debate about the BCS will cost you another drink. #SoapboxDrunj
Drink One when Trent Richardson absolutely destroys someone. He's the closest thing I have ever seen to a cannonball with legs, and his destruction should be celebrated accordingly.
Drink One every time "Honey Badger" is mentioned. If Brent follows up with "Don't Care" up the total to five. And if the Honey Badger forces a fumble, which is like asking you if you'll be drinking during the game, make it ten. He don't care, but WE DO CARE.
Drink One if Nick Saban is seen mouthing obscenities to his players. If he smiles, finish your drink and try not to fall through a glass table when you faint.
Finally, Finish your drink when the game ends. The season is over, and it's once again been one hell of an ride. Thanks for following along and enjoy the game, y'all.
Cheers.