By
Adam Kramer
Jul. 30, 2012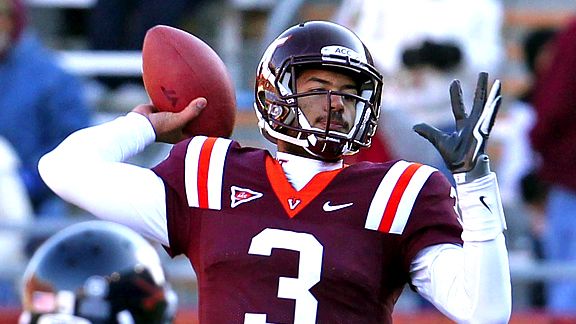 The online sportsbook Bovada.lv has really beefed up their Heisman betting options.
Through much of the offseason, they have only offered odds on around 25 players. With the season approaching, however, they've nearly doubled the available pool and added some intriguing names into the mix at some nice prices.
Knile Davis and Logan Thomas each have been added to this list and can be had for 75/1. That's… not going to last, and if you wanted them at that number, I would suggest doing so immediately. Collin Klein is also listed at 75/1, which is a tremendous value bet.
Interestingly enough, Dayne Christ is right behind them at 85/1, which is not expected to be bet as hard. Seriously, don't bet that.
As for the rest of the betting odds, here they are. For the record, here is where these odds opened at back in January.
Matt Barkley (QB USC) – 3/1
Montee Ball (RB Wisconsin) – 6/1
Denard Robinson (QB Michigan) – 7/1
Geno Smith (QB West Virginia) – 8/1
Landry Jones (QB Oklahoma) – 9/1
Aaron Murray (QB Georgia) – 15/1
Marcus Lattimore (RB South Carolina) – 18/1
De'Anthony Thomas (RB Oregon) – 20/1
A.J. McCarron (QB Alabama) – 23/1
E.J. Manuel (QB Florida State) – 30/1
Tyler Wilson (QB Arkansas) – 33/1
Rex Burkhead (RB Nebraska) – 35/1
Sammy Watkins (WR Clemson) – 35/1
Tyrann Mathieu (CB LSU) – 40/1
Keith Price (QB Washington) – 45/1
Tajh Boyd (QB Clemson) – 45/1
Robert Woods (WR USC) – 55/1
Joseph Randle (RB Oklahoma State) – 65/1
Braxton Miller (QB Ohio State) – 67/1
Marqise Lee (WR USC) – 70/1
Marquess Wilson (WR Washington State) – 70/1
Collin Klein (QB Kansas State) –75/1
Knile Davis (RB Arkansas) –75/1
Logan Thomas (QB Virginia Tech) – 75/1
Taylor Martinez (QB Nebraska) – 80/1
Dayne Christ (QB Kansas) – 85/1
Eddie Lacy (RB Alabama) – 85/1
Giovani Bernard (RB North Carolina) – 85/1
Henry Josey (RB Missouri) – 85/1
James Franklin (QB Missouri) – 85/1
Malcolm Brown (RB Texas) – 85/1
Kenny Stills (WR Oklahoma) – 90/1
Keenen Allen (WR California) – 95/1
Le'Veon Bell (RB Michigan State) – 120/1
Casey Pachall (QB TCU) – 125/1
Tyler Bray (QB Tennessee) – 130/1
Fitzgerald Toussaint (RB Miichigan) – 140/1
Ray Graham (RB Pittsburgh) – 150/1
Tavon Austin (WR West Virginia) – 150/1
Teddy Bridgewater (QB Louisville) – 150/1
Christine Michael (RB Texas A&M) – 175/1
Jeff Tuel (QB Washington State) – 175/1
Robbie Rouse (RB Fresno State) – 175/1
Bryn Renner (QB North Carolina) – 200/1
John White IV (RB Utah) – 200/1
Image Via ESPN