By
Adam Kramer
Dec. 14, 2012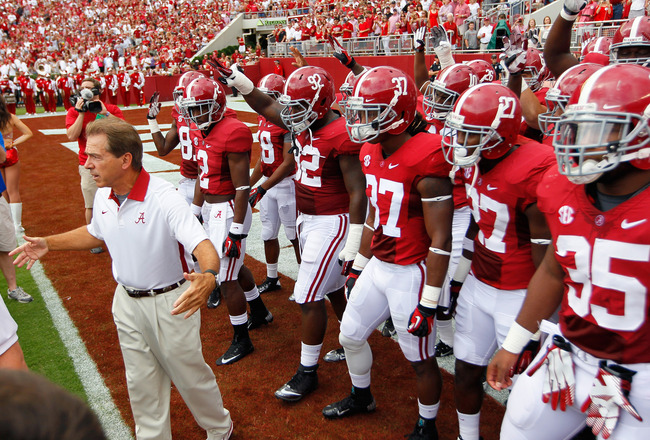 Forget about the bowls, tying a bow on the coaching search, and recruiting. The online sportsbook The Greek has posted 2014 BCS National Championship odds.
These, of course, can and will change, but it does give you a basis to go off. Speaking of basis, Alabama is once again the favorite to win it all next year, coming in at 5/1.
The most interesting odds on the board – and it's not even  close, really – is the fact that Miami is 18/1 to hoist the crystal football. To put it in perspective, Florida is also at 18/1 while Texas A&M and Notre Dame are both 20/1.
We'll dive into these more going forward, but here are the odds posted over at The Greek.
Alabama 5/1
Arkansas 100/1
Auburn 125/1
Arizona 75/1
Boise State 80/1
Boston College 200/1
BYU 125/1
California 150/1
Cincinnati 175/1
Clemson 25/1
Florida 12/1
Florida State 18/1
Georgia 25/1
Georgia Tech 150/1
Iowa 150/1
Kansas State 100/1
Louisville 50/1
LSU 8/1
Miami 18/1
Michigan 35/1
Michigan State 80/1
Missouri 175/1
Mississippi State 66/1
Nebraska 35/1
North Carolina 70/1
Notre Dame 20/1
Ohio State 12/1
Oklahoma 25/1
Oklahoma State 40/1
Oregon 8/1
Oregon State 65/1
Pittsburgh 150/1
Rutgers 100/1
South Carolina 30/1
South Florida 250/1
Stanford 30/1
TCU 60/1
Tennessee 100/1
Texas 30/1
Texas A&M 20/1
UCLA 40/1
USC 30/1
Virginia Tech 65/1
Washington 125/1
West Virginia 100/1
Wisconsin 50/1
Field 15/1