By
Adam Kramer
Jan. 18, 2013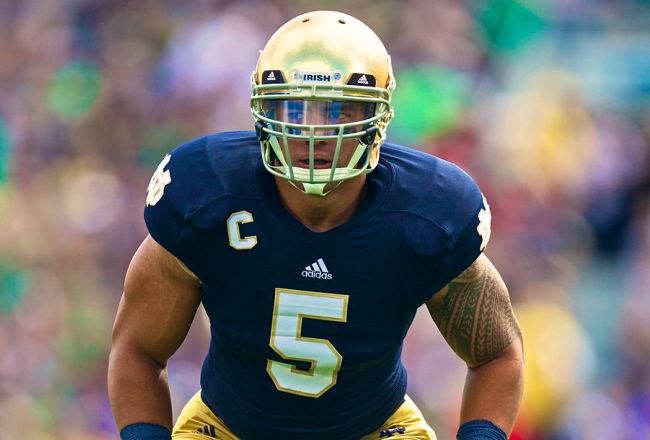 Despite the foggy details, information overload, timeline digestion, and dissection of tweets from peculiar social media personalities who now have booming Twitter followers, there's only one certainty in all of this:
We've all been duped. And there's plenty of blame to go around.
The story surrounding Manti Te'o and his fake girlfriend, Lennay Kekua, has consumed every form of media you might possibly consume. No one's quite sure what to make of it—no matter how sure they may seem—and the social conversations and columns (like this one) are taking place fully knowing that there is more to this story.
No matter what details surface, however, there will always be speculation of something more, something untold, and something that slipped through the public spotlight. After all, look how we stumbled into this rabbit hole.
Deadspin.com did a tremendous job of breaking this story, outlining a timeline and providing details that prompted a release from Notre Dame only hours later. Te'o also released a response on Wednesday, claiming he was indeed the target of an elaborate hoax.
This is incredibly embarrassing to talk about, but over an extended period of time, I developed an emotional relationship with a woman I met online.

We maintained what I thought to be an authentic relationship by communicating frequently online and on the phone, and I grew to care deeply about her. To realize that I was the victim of what was apparently someone's sick joke and constant lies was, and is, painful and humiliating.
Notre Dame followed these print responses with an impromptu press conference Wednesday night with athletic director Jack Swarbrick.
Swarbrick looked the part of a frazzled administrator—even getting emotional at times—tossed into a situation he knew WOULD eventually come. After all, Notre Dame was reportedly told about this hoax by Te'o back on December 26th and has been trying to put together the pieces together ever since.
If you thought in your lifetime that you would see one of the leaders of perhaps the country's most storied universities call a press conference to discuss the death of a fake girlfriend while referencing the MTV show 'Catfish,' take a bow. But here we are, and at this point nothing should surprise us.
As we sift through random Twitter accounts looking for answers and wait for any obscure news item at all, there are obvious holes in the story. While you may side with Te'o, he also has plenty of explaining to do, regardless of whether he was a victim or not. Chicago Tribune writer Brian Hamilton highlights one of many things that Te'o needs to answer in order to clear his name.
Manti Te'o on 12/8, 2 days after hoaxers call again: "I don't like cancer at all. I lost both my grandparents and my girlfriend to cancer."

— Brian Hamilton (@ChiTribHamilton) January 17, 2013
Notre Dame is leaning on Te'o to do much of the heavy lifting and at some point he will. Regardless of the complexity of his alleged hoax, he played a role in keeping it concealed the past few weeks. This much we know.
Whatever he says, however, will be greeted with a great deal of skepticism, regardless of his delivery and details he provides. Many have already made up their minds. The perceived purest player in college football is now tainted, through intended deception on his end or the strange and cruel actions of someone else. Many may not care which, and perhaps there is plenty of deception to go around.
Regardless of who you believe—and leaning one way or another at this point is absolutely foolish—you have been lied to. You have been deceived. You are, in fact, a fool. We all are.
The media played a substantial role in this blinded leap of faith (and I'm including myself in this), by not playing a role at all. This myth was not only given a medium to exist, but placed high on the tallest shelf for the world to see. It's a wonderful story, and why shouldn't we have believed it? Why would someone make something like this up?
The problem, however, is that there are people very capable of this and so much more. This story will likely change the way we cover athletes off the field, and this is a welcomed change. In terms of its impact on this story, the damage has already been done.
In the grand scheme, however, what damage has truly been done? No one actually died, and as we unravel the bizarre I'm trying to figure out why we care this much. We were lied to and we're not exactly sure by who or why—and this is enough for some—but the Internet is now fully entrenched in an online search for answers. Make no mistake about it; I'm as curious as everyone else, wandering every dark online alley looking for another clue.
Undoubtedly, disappointment will follow. Perhaps not in the answers we receive but likely the lack of.
This theme of disappointment is not unfamiliar in life or college football and perhaps that's what's so unnerving. We've grown accustomed to this feeling, and despite our reservations in believing in someone or something, we do it time and time again. We've been burned before, sure, but we just can't help ourselves.
I'd love to say that Te'o will change that for good, but then again, I'm just a sucker who loves a good story.